Zofona > Zofona Seoul > Stories: English and Dutch > Our Korea stories > June 5: 2005
---
June 5: 2005

After more than one year, a story with pictures.

We made a short trip from June 4 untill June 6 and discovered some nice places in the South of the Korean Peninsula. After 55 hours and 1066 kilometers we arrived back in Seoul.

First we drove from Seoul to Mokpo in the South West. We took highway 15. This new highway is a very good one, and not busy at all once you are out of Seoul.

In Mokpo we stayed at the Chowon tourist hotel. Although not luxurious it is a clean and neat place with standard rooms (tv, shower, refrigirator, hairdryer). We arrived around 4 p.m. so we had time to go to the harbour. A lot of shops selling fishing equipment, but not for sport, for fishing boats.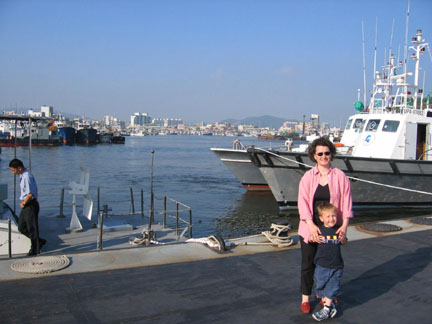 There is one road surrounding the harbour. If you like fresh seafood, you should go there because there are numerous fish restaurants. Especially Yde was impressed by all the fresh... ehmm... seafood stuff. Yes, stuff!! Sometimes we could not explain to him what was in the basins because we really didn't know these creatures. An old lady made a funny joke. Yde wanted to see squid so she took one out of the basin. In a reflex the squid used it's 'jet engine' to spray water al over him. The old 'ajima' was laughing and luckily Yde thought it was funny too. The rest of the trip he reminded us of this squid shower.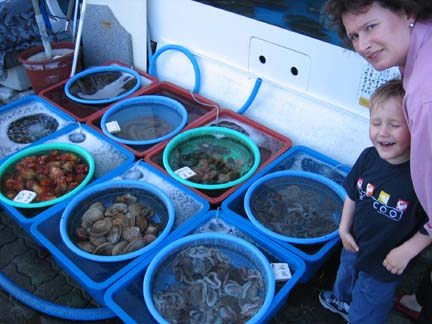 The next morning we first bought some fresh bread at the Paris Baquette before going to Namhae. This Island is located in the South and lies close to the main land and it is connected by bridges to the main land. Someone told us we should visit it because it is one of the more scenic places in Korea. And we have to be honest, Namhae is worth visiting. The rice fields are everywhere and these look more beautiful than in other parts of Korea because it is terrace cultivation.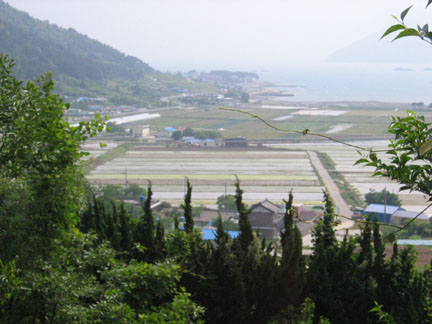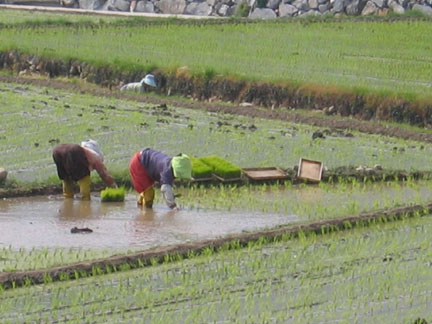 Everywhere you can find small fishing villages with a harbour like this. Very relaxed atmosphere because there is nothing to see besides from gossiping old ladies, old boats, and really old houses. But again, worth visiting!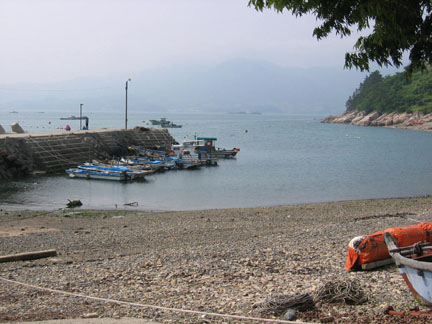 Namhae is famous for its garlic. We saw several huge statues. Indeed, just a garlic bulb thousand times its original size as a monument for not only Namhae, but in our opinion for the whole 'taste and scent' experience of South Korea. On this picture you see some proud garlic farmers cutting the garlic. Of course when we took this picture they make the (korean) universal picture gesture which is, well V V V. Always those fingers on every picture. We see this everywhere in Korea. If people take a picture of any interest, other people need to be on the picture. It looks impossible for them to take a picture without family, friends and this V sign, aarrrggh!!!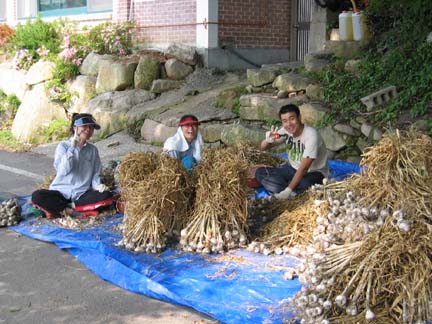 One of the best beaches we discovered on the Namhae Isle is Sangju Beach. This is not the best picture which was taken from Sangju Beach that day. I am not a member of any photo club. When I took this picture the real members were there as well. And like Koreans do when they have a hobby; they follow rule #1: Buy the best equipment possible to avoid looking like a cheap looser. No joke, so I am standing there with a normal digital camera besides people who even wear special camera men clothes, caps and whatever they need to make a stupid picture. So it's the same as with hiking, fishing, riding a bike and everything else which has the possibilty of displaying your (financial) status. I guess that made me a cheap looser in their eyes, haha.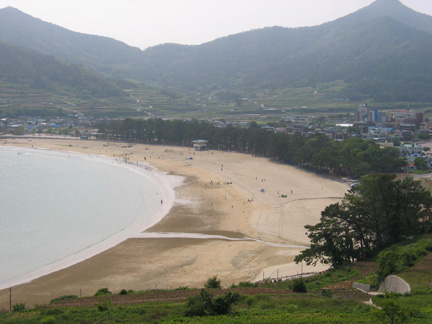 This is how Korean direction signs look like. And if you want to know why we took this picture, start learning Dutch. ;) By the way, we were heading for Jinju after finishing our Namhae tour.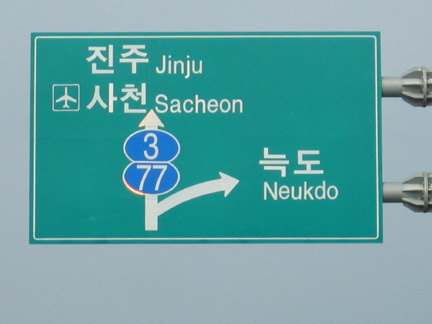 We chose Jinju because of no other reason than being too long in a car. At first we thought it was a very bad choice. We were looking for hotels and evidence of a centre and therefore we went to city hall. Do not go to the city hall of Jinju because the whole area sucks. You just have to go a couple of kilometers further North in order to find the nice part of Jinju. We had diner in a very cosy area which is focused only on student from the nearby universities. Students who are not living on the campus live in this area, it's a mix of student houses, restaurants and bars. Unfortunately there are no motels or hotels in that area, otherwise we would have stayed there. We had a good Korean barbecue which was actually cheap (Yde had his cola for free). We still needed a place to sleep so we started to search again. In the dark it was easier to see the bright parts of Jinju and soon we found the best part of the city. There are a lot of motels on the riverside, but Christina wanted a hotel so we took the Dongbang tourist hotel. It is probably the most expensive and best place to stay in Jinju but the cocktail bar needs improvement and desperate refill!. Seriously, take the cheap motels if you just want to sleep. Take this hotel if you wan to have a real hotel room. And start complaining about the fact that half of the mixes offered in the cocktail bar are not available. We had a good night, the location is nice. You can take a walk along the riverside or to the centre of Jinju. The view of the bridge reminded us (very slightly) of bridges in Paris.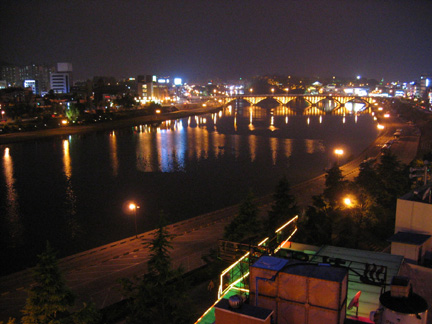 The last day of our trip. The only way is up if you want to go back to Seoul. Again we bought some bread at the Paris Baquette before leaving Jinju. We decided to take small roads through national parks.

National roads in Korea are good and they have clear direction signs. It is almost impossible to get lost if you use a good map with road numbers. We use the English version of the Atlas of Korea, published by Sung Ji Mun Hwa Co (ISBN 89-390-0060, 93980).

First we took national road 33 to Hapcheon which is just a very small city and not interesting at all. Via road 24 we went to Geochang, almost similar to Hapcheon but now with at least one traffic light. The roads led us through nice green hills. Everywhere we saw farmers planting rice or being busy with other agricultural activities.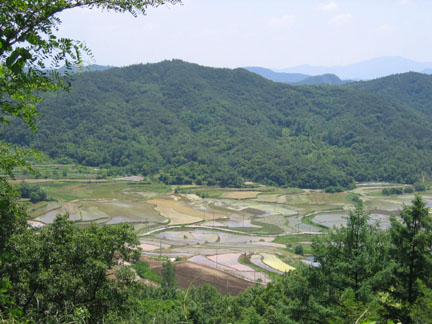 From Geochang we took road 3 to the west, just to go to road 37. This road leads through Geumwonsan and Dogyusan Forest resorts and through Deokysan national park. We would certainly recommend you to take this road if you are driving around in that area. As you can see Yde also enjoyed the view.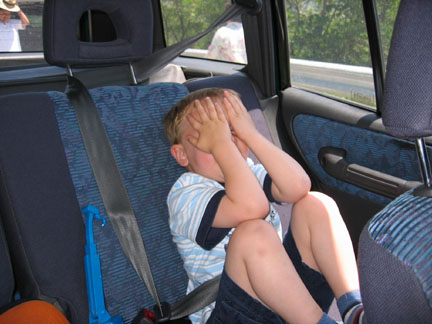 We were heading for Muju City and road 37 leads through the Muju Gucheondong Valley. Another interesting destination is this national park is Muju Ski resort. Compared to other ski resorts located more to the North this one might be interesting because we think it will be less crowded during weekdays in the winter. It's just too far from Seoul to be a one day wintersport destination.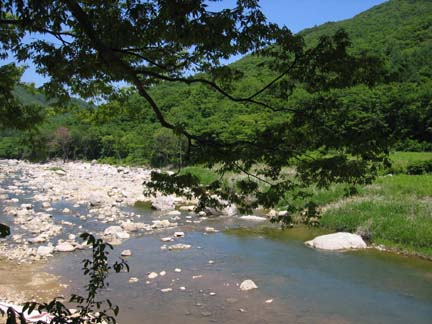 We wanted to have lunch in Muju City. At first we thought it would be just another small city but Muju is in fact very nice. According to their website it is the cleanest area in Korea. The city has a small river and you can rent waterbikes shaped like a swan.

We came at the right day because there was a festival, to be more precise, the annual firefly festival. We never expected to join a firefly festival although one Korean woman who could talk English thought we came all the way from Seoul to enjoy this festival. Anyhow, whenever there is a festival in Korea the first thing you find are food vendors. And they are the biggest attraction of any festival. Whatever Koreans are doing, food should be involved in the activities. This pig also contributed to the activities in it's own way, the smell was delicious.

Muju has at least one motel on the riverside. It is very well possible that we will go back there to enjoy the nature and silence and to ski a little bit. It was an unexpected surprise to find a place like this.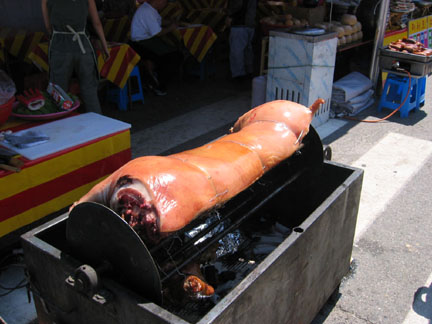 Another good thing about Muju, it is located only 5 kilometers from Muju I.C. Ease to reach by expressway 35. We took the 35 towards Daejon and from there the nr. 1 back to Seoul. Around 6 p.m. we arrived back home just in time for diner from the Pizza Hut.

So far we did not have many opportunities to make trips like this in Korea. The main reasons: small children and traffic congestion. We just do not want to get stuck in traffic jams for 10 hours (not unusual over here) with two crying children in the back of the car. But nowadays we know how to avoid rush weekend. Just leave before all Koreans leave Seoul and return before they do. It is predictable behaviour, they always do everything at the same moment.

Our impression of this trip, Korea's countryside looks nice in June. The variety is a little bit limited. You will find green hills everywhere from Seoul to Namhae. We certainly recommend to go to the national parks. They are beautiful and well maintained. Unfortunately these parks are very crowded during the weekend so you should plan your trip during weekdays. And don't forget to visit Namhae, beaches!!

posted by Jitze and Christina (05/06/05)