Zofona > Restaurant reviews Thailand
---
Restaurant reviews Thailand

Restaurant reviews

We also invite you to send reviews. Rating, awfull: 1 cook hat, superb:, 5 cook hats.

We will paste the cook hat symbols on top of your review. A red pepper will be added if it is a spicy place. If you send a review, please describe the location of the restaurant. Make some pictures of the dish and the restaurant, that would be great too!

Of course it's not only about restaurants in Bangkok. (21/11/10)

---------------------




Farang Bar Chumphon, Western and Thai food reviewed by Jitze (submitted 09/01/11)

On 28 December 2010 we stayed near Chumphon for one night. We booked our hotel outside the city, because we wanted to see more of Chumphon we decided to have diner in the city. We did not had any special plans regarding diner and we just bumped into this Farang Bar Chumphon restaurant. For the reader who doesn't know much of Thailand, Farang is used by Thai people as generic word for a Westerner.

We ordered simple food because we didn't want to stay too long. Christina asked for chicken sweet and sour, Yde and Vibeke wanted spaghetti carbonara and I ordered some kind of steak. The drinks, one coke zero, two sprite and one Singha beer. After a while we got the drinks, we did not know at that time that this was the beginning of waiting and waiting until it became ridiculous. After more than half an hour my steak arrived. Well done although ordered medium. Christina's chicken sweet and sour is a very common Thai dish which normally takes less than ten minutes to arrive at any table. It took 40 minutes to get there.

And what about Yde and Vibeke? After an astonishing hour they came with the most simple dish any cook can make. Spaghetti carbonara! How on earth did they manage to let children wait for one our for a dish which any cook can serve in 5 minutes? The taste of our food was average, not even worth mentioning. While waiting we also observed the two other tables. Not a busy restaurant so all that waiting could not have been caused by the number of customers. At the table near to us there was a couple, a foreigner and a Thai lady. The lady became mad because she also had to wait for ages. Her friend got food and she was just sitting there.

I asked the waiter if she thought this kind of service is normal and suddenly she could not talk English anymore. When asking for the bill she did not want to come to our table, another lady brought the bill. A similar thing happened with the couple at the table next to us.

One advice, don't go to this restaurant. The staff and the cook are so lousy and incompetent. If they have a problem in the kitchen they should have told us instead of keeping us and other customers waiting. We could have spend our time better at another restaurant.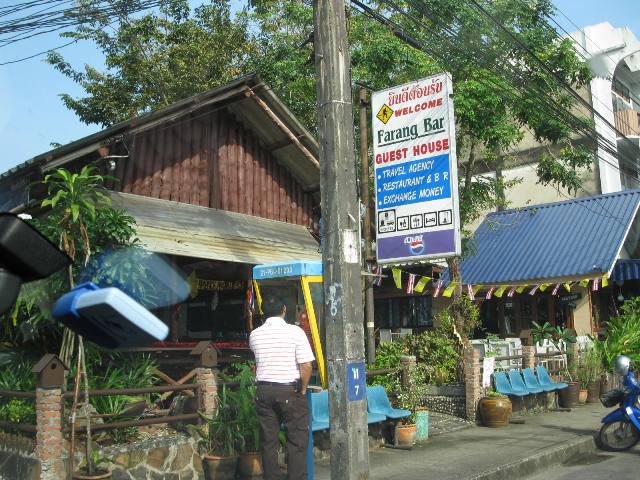 The bill: between 700 and 800 baht (roughly 20 euro's)

The address:

69/36 Thatapao Road
Chumphon, Thailand

Tel: (+66) 077-501-003 or (+66) 086-312-6427
---------------------




Koba Bar B.Q., Korean food reviewed by Jitze (submitted 19/12/10)

Last Friday our family went to the city to see the X-mas decorations. Before we walked around we decided to visit the Korean restaurant which we also visited when we were staying in the hotel after arriving in Bangkok this summer.

The owner still recognized us and looked quite happy to see us again. Because we lived in Korea and especially because I had Korean lunch for four years I consider myself some sort of specialist. I do know which Kim Chi is good or bad. And I quickly now if the taste is the same like back in Korea. I had Korean food in Slovakia, Holland and other countries and if the restaurant owner asked me what I thought of it, most of the time I could exactly explain the difference between what they serve and how it should taste. They mostly agree, it's just because they cannot get all the ingredients.

Anyhow, back at Koba we ordered Pork Bulgogi, Fried dumplings, hot bibimbab, soft spicy tofu soup, 1 large Singha beer, and 3 soda drinks. We got a complimentary Korean pancake called Pajeon consisting of spring onions, garlic, onions and squid. As you might know Korean food will always be served with many side dishes like different sorts of Kim Chi, vegetables, and many more really nice 'snacks'. If I can say one thing about Koba, they are very generous with the side dishes. We hardly had any space left on our table.

The Pork Bulgogi was good, not special. Christina thought that her Bibimbap was tasty. My soft tofu soup tasted normal, not as spicy as I would get in in Seoul. The taste of the side dishes is comparable with what you would get in Korea. The main dishes are average, not bad but also not special.

Still this small restaurant is worth a visit. There are many Korean restaurants in Bangkok. Some very bad, some probably good. This one is good enough if you crave Korean food but are living here. The number of side dishes are impressive and they serve everything with a smile. The owner shows genuine Korean hospitality so check it out if you want some healthy food.

The bill: 825 Baht (roughly 22 euro)

The address:
95/3 Soi Langsuan 6
Ploenchit Road
Lumpini Patuwan, Bangkok 10330, open daily from 11:00-23:30

Tel: 02-6522847 or 02-6504757

---------------------




Planet Bollywood, fine Indian cuisine reviewed by Jitze (submitted 09/12/10)

Yesterday I had to work late. One of my colleagues gave me the menu card of Planet Bollywood because they offer home delivery besides from running their restaurant at Sathorn road.

Home (or work) delivery can be a tricky business. If you deliver and it arrives as one big mess in a box you probably won't get a second chance. Or what if food arrives cold, heating your food for a second time will result in loosing quality.

Well, I got good news for you. Planet Bollywood delivered their food not only well packed but also steaming hot. And the food itself, everything tasted very well. It doesn't have anything to do with crappy delivery but everything with a meal like you expect in a fine Indian restaurant. The only reason why they don't get 5 cook hats, I think I should not rate it the highest score after one test.

I ordered chicken tikka masala with mixed cucumber in yogurt as a salad. Also a portion of steamed rice and two papadum's. Together with this I got some of this green stuff (sorry, no clue what it is) and chutney sauce. Everything was delicious. The chicken was nice, juicy and tender. The rice was steamed well, not sticky at all and even the papadum's arrived warm and crunchy. Throw the delicious sweet chutney sauce over the rice and chicken, it's a great combination between sweet and a little bit spicy.

What more can I say, value for money was good because I paid 492 Baht for good food. Of course you can buy your fried rice with chicken on every street corner for 35 baht, but prices in restaurants with an international kitchen are not always cheap in Bangkok. This price would be on the low midrange.

You can find their restaurant at Sathorn road, Soi Sathorn 1. Call them at 02-6776249 or 086-8359541. At this moment I have one comment, their website doesn't navigate easy and it's just a small screen. This has nothing to do with the food but it would be nice if they could change that in the future.

---------------------




MK restaurants (Carrefour at junction Rama IV, Sukhumvit Soi 26). reviewed by Jitze (submitted 21/11/10)

MK restaurants are a chain of restaurants and you can find plenty of them in Bangkok and other cities throughout Thailand. The website doesn't have an English section but after reading this review you might not be interested in the English version anyhow. I went to this restaurant together with Yde and Vibeke.

First of all it was not the kind of restaurant I expected. Somehow I thought it would be more like TGIF or Sissler's because I was planning on having a steak. Yde and Vibeke wanted pasta so for the three of us we had to change plans. At this MK restaurant every table has a cooking pan on it. Apparently we are supposed to prepare our own food at our table. This would not have been a real problem so far, the staff caused the problem for us. Their total lack of English knowledge was even strange to Thai standards.

They were not able to explain how and what we should order. Which combination should we choose because the card is not very clear on this. There are sections with raw vegetables and other sections with cooked meat and poultry. What is supposed to go into the pan on the table? Vibeke was offended althoug being six year old they still called her baby. So finally we settled for two times green noodles with pork on top in the dry version and one portion of sliced duck 'MK style'. This duck also caused me a headache because I only asked how big the big portion was. Not difficult English but three employees did not understand at all what I was asking.

By that time we already did not like this MK restaurant too much. The green noodles arrived way ahead of the duck (not good of course) so Yde and Vibeke started chewing. They both did not like the noodles, they were lukewarm when served and were quite neutral, not any specific taste at all. I had to agree with them after tasting some of it. My duck arrived also lukewarm without any garnishing. The taste was not too bad but serving food at the wrong temperature without trying to help us to order properly was really very bad.

We all had one glass of orange juice with the noodles and duck. All together I paid 469 Baht and I did not leave one Baht tip. Maybe other MK restaurants are better, I hope so because for sure we will not go to this MK restaurant anymore.