Zofona > Thai food
---
Thai food

xxxxxxxxxxxxxxxx

Kaeng Khae Curry with flowers of the Sesbania Grandiflora

This recipe comes from one of Phaw her cookbooks and I definitely needed her help with translating it. So Phaw and I sat together behind the laptop and searched for the English names and pictures of some ingredients. I asked her a lot of questions and she even took ingredients from the fridge to show me. After 45 minutes of work, imagine I do not speak Thai and her English is not so good yet, I really believe we managed to make a proper translation of the recipe.

Ingredients for the curry soup
2 tablespoons red curry paste
5 fresh red chillies (finely chopped)
7 shallots (finely chopped)
5 cloves garlic (finely chopped)

Make a smooth paste by crushing the ingredients with a mortar and pestle. If you have a small blender you can use it as well, it is easier and faster.

Heat a little oil in a cooking pan and fry the mixture until it becomes fragrant. Add about 1.5 liter water and mix well until you become a kind of soup. Leave the fire on.

Ingredients to put in the soup
1 smoked cat fish (pla duk foo), use only the meat in tiny flakes
10 wild pepper leaves (chapoo)
1 cha om leaf (type of acacia leaf)
2 string beans (cut in small pieces)
10 thin slices of galangal root
100 g of Dok Khae flowers (stamen and calyx removed)
5 golf ball-sized Thai eggplant ( cut in quarters)
10 pieces makua puong (pea eggplant, frequently used in curries)
10 pieces of fresh baby corn
4 fresh small red chilli peppers (sliced, with or without seeds)
5 kaffir lime leaves (bai makrut in Thai)
Nam pla (fish sauce) to taste

Add the above ingredients to the soup and let it simmer for about 20 minutes or until the vegetables are tender.

Serve the dish with rice or noodles. We ate it with rice but I think it is even better when you put cooked noodles in a bowl and pour the soup over it. I call it soup because it looked more a thin liquid to me but the taste was good. Maybe next time we should add less water to make it a bit thicker so it sticks more to the rice. Now the rice was more or less floating in the soup. But as I said before, the taste was great.

xxxxxxxxxxxxxxxx

Phad See Ew Stir-fried Noodles with Black Bean Sauce

We had these noodles for dinner and they were delicious. A bit of the dipping sauce spooned over the noodles makes the dish a little spicy.

Ingredients
250 gr fresh wide rice noodles
4 cloves garlic, minced
250 gr chicken or pork, cut in bite-size pieces
3 tablespoons oil
4 eggs
1-2 tablespoons black bean sauce
2-3 tablespoons soy sauce
1.5 teaspoon sugar
150 gr Kai-Lan (Chinese kale, in Thai Phak Khana)
3 pieces of baby corn, sliced
1/2 of a large carrot, shredded

Mix noodles with black bean sauce and soy sauce, set aside.
Heat the oil in a wok and add the minced garlic. Fry until golden and add the meat, stri-fry until cooked. Break the eggs and stir-fry them until done. Add the noodles, chines kale, baby corn and carrot and stir-fry everything until the vegetables are tender.

Ingredients for dipping sauce
2 tablespoons white vinegar
1 red chilli pepper cut into small pieces

Mix the vinegar and the cilli pepper in a small bowl and serve it with the noodles.

xxxxxxxxxxxxxxxx

Som-tum Spicy Green Papaya Salad
picture

Ingredients
3/4 of a large green papaya (shredded)
1/2 of a big carrot (shredded)
2 string beans (cut into bite-size pieces)
a handful of cherry tomatoes (cut into quarters)
2 tablespoons dried shrimps
a small bag of roasted peanuts (crushed)
3 bird chillies (cut into small strips)
4 cloves garlic
1 tablespoon tamarind concentrate
2 tablespoons sugar (preferably palm sugar or light brown sugar)
2 tablespoons nam pla (fish sauce)
1-2 tablespoons lime juice

Pound the garlic, chillies, dried shrimps and peanuts coarsly with a mortar and pestle. Add the string beans and pound them lightly. Mix the tamarind concentrate, sugar, nam pla and lime juice together. Put the shredded papaya and carrot in a bowl, add the cherry tomatoes, the pounded mixture from the mortar and the dressing and mix everything together.

According to Phaw we have to eat the salad togeter with sticky rice.

xxxxxxxxxxxxxxxx

Khai Khem Salted Eggs

Jitze brought home a salted duck egg from Surat Thani, a place in Southern Thailand. I looked for a recipe and found this article about how these strange looking eggs are created. In Bangkok they use a different recipe to make salted eggs and since you have to be really skilled to make them like Mae Lek, not even to speak about the things you need to complete the brining process, I will give you the much easier Bangkok recipe for salted eggs. You can use duck eggs as well when you prefer a stronger egg taste.

Ingredients
10 fresh eggs (preferably straight from the hen)
150 gr sea salt or iodized salt per liter water

Bring 2 liter water mixed with 300 gr of sea salt to a boil. Turn off the heat and let the salty water cool down until you can stick your finger in it without saying ouch! Place the eggs (still in their shell) carefully in a glass jar (with lid) and pour the salted water over the eggs until they are fully covered. Seal the jar and store it in a cool place for at least 4 weeks.

When you want to eat the eggs, take them out of the jar and prepare them the way you like, boiled, fried, scrambled etcetera.

xxxxxxxxxxxxxxxx

Pad Naw Mai Farang Stir-fried Asparagus
picture

This is a very easy recipe and it tastes really good. The original recipe is with normal green asparagus but I prefer baby asparagus when I have to stir-fry them. The only thing I will change next time is using red chilli peppers instead of ground white pepper. It gives the dish a bit more colour.

Ingredients
400 gr baby asparagus
2 cloves garlic (minced)
2 tablespoons oil for frying
2 tablespoons oyster sauce
1 tablespoon nam pla (fish sauce)
1 teaspoon sugar
white pepper to taste

Clean the baby asparagus and cut them into pieces of about 3 cm long. Heat the oil in a frying pan and stir-fry the minced garlic until it turns light brown. Add the baby asparagus and stir-fry them for about two minutes (they should stay firm). Stir in the remaining ingredients and stir-fry everything for another minute or two.

Enjoy!

xxxxxxxxxxxxxxxx

Kai Tod Spicy Fried Chicken

When you leave out the all-purpose flour, the marinated drumsticks can be put on the BBQ.

Ingredients
I kg drumsticks (small chicken legs with skin)
5 cloves garlic
Black pepper
2 tablespoons paprika powder
2 teaspoons curry powder
8 tablespoons oyster sauce
4 tablespoons soy sauce
2 tablespoons sugar
1 teaspoon salt
6 tablespoons vegetable oil
8-10 tablespoons all-purpose flour

Optional: stalks of lemon grass sliced thin and kaffir lime leaves shredded both deep fried until crisp go very well as a garnish.

Rinse the drumsticks and marinate them for at least 4 hours in a mixture of all the ingredients mentioned above. Deep fry the drumsticks until they are light brown and thoroughly cooked (5-6 min., depends on thickness). Serve the drumsticks on a plate topped with the fried lemon grass and kaffir lime leaves.

* Marinate the drumsticks over night will give a richer flavour.


xxxxxxxxxxxxxxxx

Moo Phad Khing Stir Fried Pork with Ginger

Also an easy dish. You can use different kinds of mushrooms (pin-, ear- or shiitake mushrooms), when you think the chillies are making it too spicy use a piece of bell pepper instead and when you ran out of fresh young ginger you can even substitute that with stem ginger from a jar and add sugar to taste.

Ingredients
Vegetable oil
500 gr pork fillet (sliced)
2-3 cloves garlic (grated)
1 big onion (cut into small wedges)
2 green spur chillies (sliced in thin strips)
2 yellow spur chillies (sliced in thin strips)
250 gr mushrooms
4 spring onions (cut into pieces)
4 tablespoons grated young fresh ginger
2 tablespoons sugar
1 tablespoon soy sauce
4 tablespoons oyster sauce

Heat a little oil in a frying pan and stir fry the garlic for about a minute. Add pork meat and fry it until it is cooked. Mix in the rest of the ingredients and stir fry everything until it has reached the right bite (some people like vegetables more crispy than others;)).


xxxxxxxxxxxxxxxx

Kai Luuk Koei Eggs in Sweet Chilli Sauce

Especially for Addy from Holland, it sounds similar to his favourite Chinese take-away food Koe Loek Kai, but the taste is different and there is less sauce.

Ingredients
oil for frying
5 boiled eggs (skin removed)
2 tablespoons nam pla (fish sauce)
2 tablespoons palm sugar (or brow sugar)
3 tablespoons tamarind sauce

As a garnish you can use some small dried red chillies (chopped), some fresh coriander leaves or a few spoons fried onion and sprinkle them over the eggs before serving.

Heat oil in a frying pan, add the boiled eggs and fry them until they turn light brown. Put the eggs on a plate and cut them into halves. Make the sauce by heating up 1 spoon of oil in a small sauce pan, add the nam pla, sugar and tamarind sauce and stir until the mixture gets sticky. Pour the sauce over the eggs and garnish to taste.

xxxxxxxxxxxxxxxx

Gai Phad Met Ma-Muang Fried Chicken with Cashew Nuts
picture

One of my favourite dishes just because of the cashew nuts. Cashew nuts are quite expensive in Thailand so you will not find this dish at the food stalls on the street, but the majority of the small restaurants will serve it. We tried the recipe at home and it was really delicious and easy to make. Enjoy!

Ingredients
2-3 chicken fillets
corn starch
water
250 ml oil for deep frying the chicken
1 tablespoon vegetable oil
1 small onion
250 gr mushrooms
2 tablespoons soy sauce
2 tablespoons sesame oil
2 tablespoons chilli oil
3 tablespoons oyster sauce
3 scallions
150 gr roasted cashew nuts
5 dried chillies (optional)

Cut the chicken fillets in small pieces and mix it with 3 tablespoons corn starch and 3 tablespoons water. Heat 250 ml oil in a deep frying pan and fry the chicken in batches. When the chicken is done take it out of the pan and leave it on a plate covered with kitchen towel. Set aside.

Cut the onion and the mushroom in pieces, the scallions in pieces of about 1 cm. Roughly chop the dried chillies. Heat 1 tablespoon vegetable oil in a frying pan, add onion fry until golden. Add the mushrooms, soy sauce, sesame oil and the chilli oil. Fry everything for about 3 minutes. Mix in the chicken, scallions, cashew nuts and chillies and stir fry for about 2 minutes on high fire.

Serve hot with rice of your choice.

xxxxxxxxxxxxxxxx

Thai Bami with roasted pork Simple fusion style bami

I got this recipe from a colleague, she says it is great. Although it does not mention how much you need of everything it is worth a try I think.

Ingredients

Pork meat
Roasted pork seasoning (Thai call it red pork seasoning)
Egg noodles
Chinese vegetables like pak choi
sesame oil
fish sauce
garlic (fry it first)

Marinate the pork with seasoning and leave it for 10 minutes then fry it(without oven, you can fry it without oil). After frying slice it nicely in order to be placed on top of Bami. Quickly boil the pak choi for 30 seconds and after this mix it with 2 teaspoons of sesame oil. Boil the bami until it is soft(1 minute only) then quickly drench in cold water(3 seconds) and last quick drench in boiled water then mix it with the fried garlic and 1 teaspoon of soysauce. Put everything nicely on a plate and add your flavour with fish sauce, lime, sugar or chili. Just try half a table spoon of each for full flavor.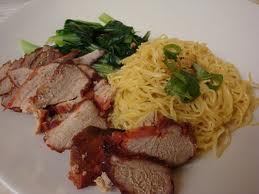 xxxxxxxxxxxxxxxx

Kaeng Massaman Beef in Massaman Curry
picture

Massaman curry is another type of curry which finds its origin in the Southern part of Thailand. It can be made with beef, chicken, seafood or tofu. Pork can be used as well but as a Muslim dish it is not halal to use pork. The taste should be a perfect balance of sweet, sour and salty. The name Massaman probably comes from the word Musulman, a linguistic variation of the word Muslim. In one of the earliest Thai recipes of the 19th century AD it is recorded as Mud-saman. I checked as well the difference between coconut milk and coconut cream, interested? Click here.

Ingredients
400 gr beef (stew type cut into cubes)
750 ml coconut milk
1000 ml coconut cream
salt
4 tablespoons Massaman curry paste
5 small potatoes cut into wedges
3 onions (medium size) cut into wedges
3 tablespoons sugar (preferably palm sugar or brown sugar)
2 tablespoons tamarind juice
2 tablespoons nam pla (fish sauce)
2 tabelspoons roasted peanuts (unsalted)
3 bay leaves
7 roasted cardamoms
2,5 cm cinnamon stick
for garnish red spur chillies cut into strips and some bay leaves

Mix coconut milk and coconut cream in a pot and bring it to a boil. Add the beef and about 1/2 teaspoon salt. On low heat let the beef simmer until it is tender. Prepare in another pot the Massaman curry paste, fry it until it releases its aroma and then take some of the coconut cream mixture in which the beef has been boiled and add it to the Massaman curry paste. Make a smooth creamy mixture and add it to the beef mixture. Add the potato and onion wedges, palm sugar, tamarind juice and nam pla, boil for about 10 minutes. Then add the peanuts, bay leaves, cinnamon and roasted cardamoms and cook until everything is done. Serve in a bowl topped with red chillies and bay leaves. Rice is served in a separate bowl.

xxxxxxxxxxxxxxxx

Yam Met Mamuang Himaphan Spicy Fried Cashew Nuts

Recently we had these tasty cashew nuts served as a complimentary dish with our meal. Although we would eat this as a snack, in Thailand it is served as a salad.

Ingredients
250 gr cashew nuts (the plain unsaltened ones)
2 red chilli peppers (spur)
2 spring onions
salt to taste
oil for frying (about half a litre)

Heat the oil in a pan in which you can deep fry. Add the cashew nuts and fry them until golden. Remove them from the pan and place them on a piece of kitchen paper to remove excessive oil. Cut the chilli peppers into thick slices and the spring onions into thin rings. Mix cashew nuts, chilli pepper and spring onion in a bowl, add salt to taste.

xxxxxxxxxxxxxxxx

Tao-hu Khao Thot Fried Tofu


This is a vegetarian recipe for an easy Thai snack. If you like tofu it is worth trying out.

Ingredients
4 slices firm tofu (tahoe or bean curd)
vegetable oil for deep frying (about 1 litre)

Ingredients for the dipping sauce
100 gr sugar
120 ml vinegar
3 tablespoons peanuts (roasted and coarsely chopped)
10 small red hot chilli peppers cut into strips
salt to taste

Prepare the fried tofu by cutting the slices tofu in bite-size pieces. Heat the oil in a wok or if you have a deep frying pan you could use it as well. Fry the tofu until it is coloured golden remove it from the oil and drain so excessive oil will dripp off. Make the dipping sauce by mixing vinegar, sugar and a pinch of salt in a pan. Heat the mixture over low fire, stir well and simmer until the sauce becomes thick. Mix in the the peanuts and the chillies. Before serving allow the sauce to cool down a bit.

xxxxxxxxxxxxxxxx

Panang Pla Salmon Salmon Panang Curry

A simple but tasty Thai salmon dish. The panang curry paste I used is from the Nittaya brand, available in good Asian supermarkets (like the one opposite our house in The Netherlands) and otherwise in web stores. The chillies used are spur chillies (the normal chilli peppers) or prik chi fah in Thai.

Ingredients
2 salmon steaks
100 g panang curry paste
500 ml coconut milk
3 tablespoons nam pla (fish sauce)
1 tablespoon palm sugar
2 teaspoons tamarind concentrate (jar)
4 kaffir lime leaves, central vein removed and sliced into thin strips
sweet basil leaves
1 green chilli cut into small strips
1 red chilli cut into small strips
vegetable oil

Prepare the panang curry by heating a pan over medium heat, add a little vegetable oil and the panang curry paste. Mix well and fry it lightly until the aroma becomes noticable. Add the coconut milk and stir until it starts boiling. Season with the nam pla, palm sugar and the tamarind concentrate, keep on stirring. Add the salmon steaks, wait until it starts boiling again, reduce the heat and boil everything until the salmon steaks are cooked. Remove the pan from the stove and put in the kaffir lime leaves and some sweet basil leaves. Place the salmon steaks on a plate and add some of the curry sauce, sprinkle some red and green chilli strips on top of the sauce. Serve with rice.

xxxxxxxxxxxxxxxx

Gaeng Khieo Wan Gai Green Chicken Curry

Ingredients
250 g chicken tenderloin fillets (sliced into thin strips)
100 g green curry paste
1/2 l coconut milk
50 g small green eggplant (Thai style)
1 tablespoon palm sugar
1 tablespoon nam pla (fish sauce)
25 g sweet basil leaves
2 kaffir lime leaves, central vein removed and sliced into thin strips
2 small red hot chilli peppers in small rings
2 small green hot chilli peppers in small rings
(in Thai the hot chilli peppers are called prik kih noo)

Prepare the green curry by heating a pan over medium heat, add the green curry paste and a little coconut milk. Mix well and fry it lightly until it starts smelling nice. Add about 350 ml of the coconut milk, stir and bring the green curry to a boil, simmer for about 5 minutes. Add the chicken meat, the small green eggplants and the kaffir lime leaves. Stir well and let the curry simmer until the chicken is done (10-15 minutes). Add the rest of the coconut milk and season the curry with the fish sauce and the palm sugar.

Serve the green curry garnished with the sweet basil leaves and the red and green pepper rings (add to taste).

In most Thai restaurants you will find a small bowl with sugar placed on the table. When you think the food is to spicy add some sugar, it will make the food taste less spicy. Jitze tried it once and he claims it really works.

xxxxxxxxxxxxxxxx

Kai Yad Sai Savoury Stuffed Omelets
picture

Sometimes we eat these stuffed omelets for lunch and sometimes they are part of our dinner served with rice and mixed fried vegetables on the side.

Ingredients
100 gr minced pork
2 tablespoons finely chopped onions
3 tablespoons cooked green peas
3 tablespoons finely chopped tomatoes
1/2 tablespoon sugar (we use mitr phol gold but white sugar will do)
1 tablespoon nam pla (fish sauce)
1/4 teaspoon soy sauce
3 eggs beaten
white pepper to taste
oil for frying
3 tablespoons chopped fresh coriander
1 red chilli pepper sliced in small rings

Stir fry the minced pork over high heat. I usually do not use oil for frying minced pork but you can add some oil if you like. Add onions, peas, tomatoes and stir fry them for 1 minute. Then mix in the sugar, nam pla and the soy sauce, fry everything until cooked (sugar will dissolve) and set aside. Heat an omelette pan (15 cm in diameter) and put in some oil. Pour in some of the beaten egg, enough to cover the base thinly. When the omelette is browned lightly on one side flip it over and fry the other side. Make more omelettes this way until the egg is used up. Stuff the omelettes by putting a spoonful of the meat mixture in the centre of the omelette. Fold the omelette, opposite sides towards the centre so you will have a square in the end. Stuff the remaining omelettes the same way and place the squares upside down on a plate. Garnish with the chopped coriander and the sliced chilli pepper. Serve the stuffed omelettes with rice.

xxxxxxxxxxxxxxxx

Kluay Hom Tod Fried Banana with Honey Dip

Fried banana is a sweet snack and loved by children. It is slightly different from the Indonesian version because of the use of breadcrumbs. The breadcrumbs used in this recipe are the flaky ones instead of the fine grounded ones we use in Europe.

Ingredients
4 small bananas
60 gr all purpose wheat flour
1 tablespoon instant yeast
50 gr white sugar
120 ml water
1 tablespoon sunflower oil
flaky breadcrumbs
oil for frying (preferably vegetable oil)
honey for dipping

In a large bowl mix flour, yeast, sugar, oil and water together until it becomes a smooth mixture. Set aside. Peel the bananas and cut them lenghtwise in half. Coat the bananas with the flour mixture, try to do this evenly otherwise the breadcrumbs will not stay on. Then coat the floured bananas with breadcrumbs. Deep fry the bananas in the hot oil until they look golden and crispy. Serve the bananas hot and put a small bowl with honey on the side for dipping.

This recipe makes eight pieces, for our family I double the ingredients.

xxxxxxxxxxxxxxxx

Satay Kai Yang Red Curry Chicken Satay

This recipe is good for 4 persons and the satay can be grilled on the barbeque, in the oven at 220 degrees Celsius or in a lightly greased grill pan. I wanted to make it as satay but lack of time made me prepare it just as meat so fried the marinated chicken in a pan. Even the children liked it because it was not too spicy and the chicken was really tender.

Ingredients
500 g chicken fillet, sliced into strips thick enough to put a skewer through.
1 package red curry paste (50 g)
1/2 tablespoon fish sauce
1 tablespoon palm sugar
250 ml coconut milk
3-4 kaffir lime leaves, central vein removed and sliced into thin strips

Prepare the red curry marinade by heating a pan over medium heat, add the red curry paste and approximately half of the coconut milk. Mix well and fry it lightly until the it starts smelling nice. Add the rest of the coconut milk, fish sauce, palm sugar and the kaffir lime leaves. Stirr well until the palm sugar has disolved. Remove the marinade from the heat and let it cool down. When the marinade is cold add the strips of chicken fillet and make sure that all the meat is covered. Marinade for one hour. (I used a plastic bag in which I combined marinade and chicken, closed it and put it for several hours in the refrigerator.)

To make the satay: thread the skewers through the marinated chicken fillet and grill or fry the satay the way you prefer. If you use a barbeque soak the skewers first in cold water to prevent them from burning.

Enjoy!