Zofona > Weblog Thailand > Archive Thailand 2010 > Weblog Thailand Nov 10
---
Weblog Thailand Nov 10



submit a comment

---------------------
Cats and a trip

Christina arrived last Saturday after being in the Netherlands for two weeks. She brought our cats with her. It took quite some paperwork before we managed to get them here but now they are with us again. Christina told me today that they are already walking outside enjoying tropical temperatures.

In the meantime I am in Kuala Lumpur for a short business trip. I like to be in KL. The Petronas towers are impressive and beautifull as usual. (posted by Jitze, 30/11/10)
---------------------
Loy Krathong, from our 'to do' list

As mentioned in the previous posting today we went to the park to celebrate Loy Krathong. Or better, to see how Thai people celebrate it. Of course we also bought one of these floating candles. Getting into the park was quite some work because it was crowded. Everyone wanted to get in but at the same time vendors were almost blocking the crowd because of this sales opportunity. I bought two candles for Yde and Vibeke. They gently put them into the water, look at the pictures below to get an impression. It's a nice event with a lot of families and children all walking around, excited with candles, small fireworks and of course food.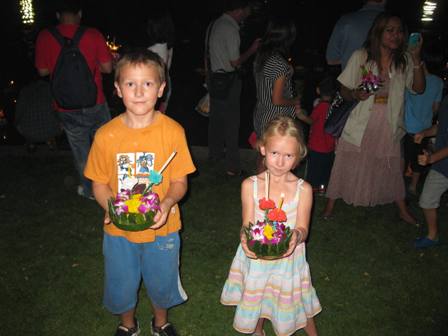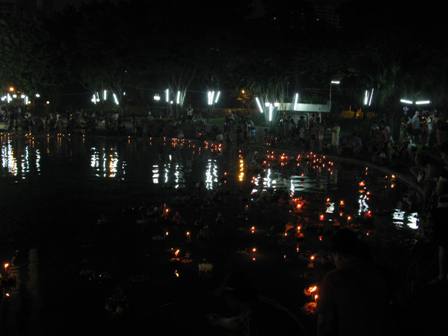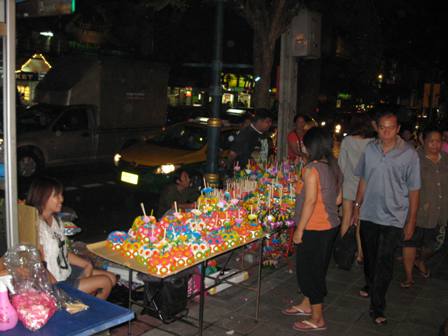 I also started to work on the page with restaurant reviews. Our bad experience at MK restaurants will be the start. Expect more reviews to come and if you are living in Bangkok and reading this. Reviews are welcome! (posted by Jitze, 21/11/10)
---------------------
Loy Krathong Day

Coming Sunday it is full moon and hundreds of thousands people will release flower floats bearing candles and incense sticks into Bangkok's rivers and canals. We know what to do tomorrow evening, watching Loy Krathong at the riverside or maybe at Lumpini park. (posted by Jitze, 20/11/10)
---------------------
Goodbye old house

Not too long ago we received pictures from Mina, our nanny in Belgrade. She went to the place we called home for the last four years. We knew that the new owner of the house wanted to construct a new house. Still it is strange to see that this place, for us a place with very nice memories, just vanished.

How we remember it: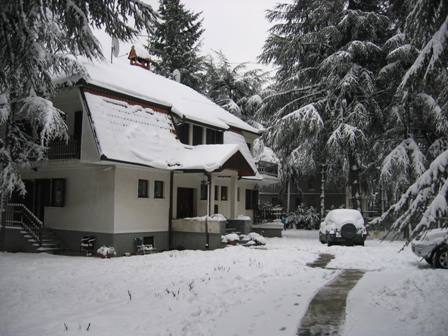 Reality: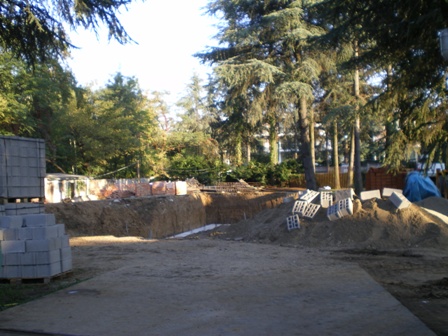 Somehow it just makes me feel a little sad. And I just looked better at the pictures, they cut at least one protected tree!(posted by Jitze, 18/11/10)
---------------------
Something to read

While surfing the web I stumbled upon Thailand news. It gathers news about Thailand, not only from the two English newspapers (Bangkok post and the Nation) but also from other sources. It's nice because there are not too much advertising.

Yde and Vibeke are getting used to the fact that Christina isn't here at this moment. It's also good for me because now I do the things Christina normally does and I get to see how much work it is :-). Checking homework, figuring out their activities, making sure they catch the bus in time. I just have to think of something we could do this weekend. Maybe we should go to dreamworld. Today two people told me they went there, they say it's nice. The only thing which is different from other amusement parks. You get to go in every attraction only once. I don't know why but I guess the lines are shorter that way, at least for popular attractions. I will ask Yde and Vibeke if they like the idea. (posted by Jitze, 17/11/10)
---------------------
Sinterklaas in Thailand

The Dutch have their own Santa Claus. It's not about the North Pole and reindeers but it has everything to do with presents and it is the number one children's day. Our Sinterklaas (looks like a Catholic Saint) is coming from Spain in a boat. In the Netherlands he uses his assistants (called black Peter) to serve every child in the country. And believe it or not, he is supposed to ride the roof of every house in the Netherlands on a white horse. The presents are going down the chimney just like Santa does. But for all the Dutch children abroad, our Sinterklaas is not forgetting them. We also celebrate Sinterklaas in Thailand. In order to get in the mood Yde and Vibeke watched the arrival of Sinterklaas via internet. Now they are allowed to put a carrot in their shoes, sing some songs and wait for the next morning, if they behaved well last year they find presents in their shoes (scroll down a bit for the picture).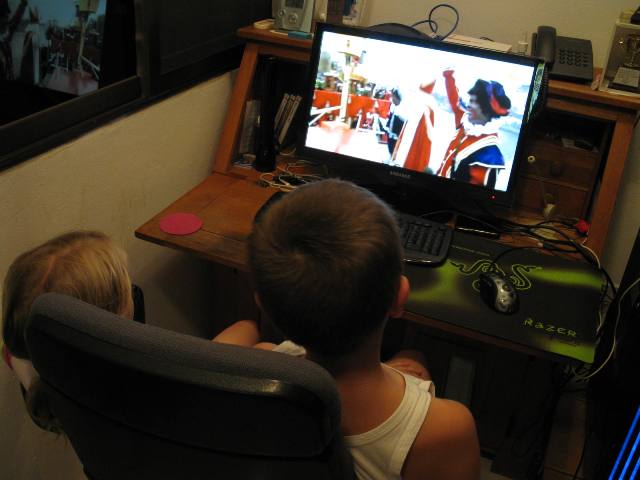 Furthermore, Christina went to the Netherlands on Saturday evening. She will arrange things for her study and she will finally bring our two cats back home to Thailand. Our poor cats stayed in the Netherlands for such a long time but soon they can enjoy tropical temperatures.

In the meantime I had to study this whole schedule of Yde and Vibeke. Their agenda seems to be more filled than mine. Taekwondo, ballet, Swimming, Dutch lessons. As long as I get them on the bus in time everything should be fine. (posted by Jitze, 14/11/10)
---------------------
AJ's True Desire

My experience is that in countries where people mostly have straight hair, hairdressers who can cut curly hair are hard to find. So after several weeks of walking around with really too much hair on my head I went to the hairdresser. Not exactly knowing what to expect I went to a salon on Sukhumvit Soi 18 of which I had seen an advertisement and hoped that I could have my hair cut. The hairdresser was not in so one of the ladies present put me on the phone with the hairdresser to make an appointment myself. I asked the hairdresser if she could cut curly hair and of course the answer was Yes, I can. To me that is no guarantee, but the salon looked nice and the hairdresser spoke English. So yesterday I went to at AJ's True Desire and had my hair done. The hairdresser really has experience with curly hair, she has curls herself, and I am very happy with my haircut. But best of all, I don't need to try out more hairdressers and walk around for weeks with ugly looking hair. (posted by Christina, 12/11/10)
---------------------
Khao Yai

Again some news about Yde. Today it was a big day because his class is going on a trip to Khao Yai national park. And it's not just a trip. They will stay there one night! It's the first time he does something like this without us.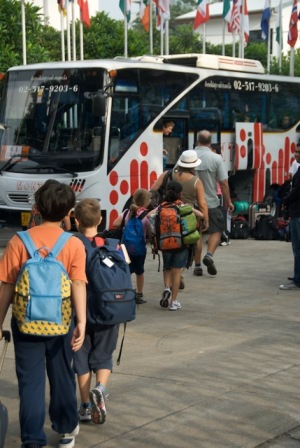 He was both excited and slightly nervous but he also looked forward to it. Second from the left you see him walking towards the bus. Tomorrow we will hear all the great stories. (posted by Jitze, 09/11/10)
---------------------
Webcam

It's not easy to get some kind of streaming webcam online. For years I try to find a good and cheap solution but so far I did not manage to make it streaming. At least I found two streaming webcams in Bangkok. The Landmark hotel, which is not far away from our house and some internet cafe. If you have nothing else left to do you can observe Bangkok this way. (posted by Jitze, 08/11/10)
---------------------
Computer games

In Serbia I used to play battlefield2 for almost four years. Online gaming against other players in Europe. Because of all that playing I obtained a high rank and I got really good at that game. Now I cannot play it anymore. It's just not possible to play with European players because of the high ping. The distance is too far away. The only game I continue to play is miniconomy.

Back in 2002 I started playing this game and I am still enjoying it. It's not about graphics, speed or anything like that. It's simulates a society based upon trade and social live. Available in Dutch, English, Danish and Spanish. Feel free to take a look, maybe you will like it and play it as long as I do. (posted by Jitze, 07/11/10)
---------------------
What to buy?

If you visit Thailand for the first it is most likely that you will spent some time in Bangkok. And you will probably be surprised by the number of shopping malls in Bangkok. It's the Thai way to escape the heat if they are free. Shopping malls are more than a bunch of shops, it's a place to stay the whole afternoon. Of course there are food courts and fast food restaurants. The big ones also have very nice cinemas and game/entertainment courts, bowling and so on.

One of the older shopping malls which I still like a lot is MBK shopping center. This shopping mall does not have all the luxury fashion outlets which the new malls have. MBK has more small shops. It's like walking on the street where you also can find all these vendors selling the weirdest things. The difference is the airco. I even found a shop selling navigation/tv/dvd players for our car. I am seriously considering this. It was a 2000 euro option at the time we bought the car. Here it will cost around 500 euro's. Nice to watch some Thai television if I am stuck in the morning traffic jam. (posted by Jitze, 06/11/10)
---------------------
Yellow

Yde was a little bit nervous about it but today was the big day. He would try to get his yellow belt at Taekwondo. The most exciting part for him would be the breaking of 3 bricks. He wasn't too sure about that part.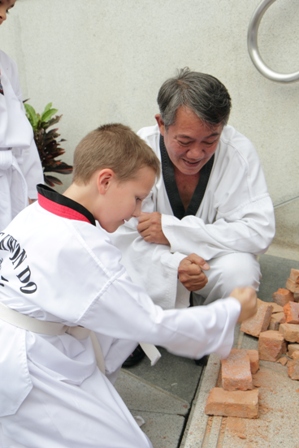 Well, he got the yellow belt and he had no problem breaking those bricks at all. Look at this great picture, congratulations Yde! (posted by Jitze, 02/11/10)